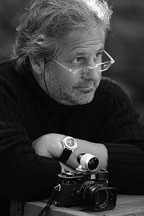 John Ficara has traveled the globe as an editorial photographer, photographing domestic and international news and politics. His assignments have taken him to 86 countries around the world. He has covered the White House for Newsweek Magazine through five presidential campaigns and four administrations and has produced 38 cover images for Newsweek Magazine as well as covers for a variety of domestic and international magazines.
He has won numerous awards and honors including a DESI for his Newsweek Magazine cover photograph of Pope John Paul II in the Philippines and in 1992, a National Headliners Award for "Feature Photography" for his Persian Gulf coverage leading up to the war. His photographs have received awards from World Press Photo, the National Press Photographers Association and the White House News Photographers Association. His editorial work has appeared in editions of American Photography, which honors the best in American photography in editorial, advertising and fine art. His work has appeared in many book projects including Maryland 24/7 and A Day in the Life of the U.S. Armed Forces.
Creating The American Black Farmers Project, which spanned four years traveling around the United States, he set out to document the disappearing black family farmer in America. That body of work has been awarded the White House News Photographers Documentary Grant and the National Press Photographers/Nikon Documentary Sabbatical Grant. The project resulted in the critically acclaimed book BLACK FARMERS IN AMERICA, published by the University Press of Kentucky. Also, the Reginald F. Lewis Museum in Baltimore continues to host the traveling exhibition DISTANT ECHOES: BLACK FARMERS IN AMERICA, a collection of sixty images from this project around the United States.
Mr. Ficara sits on the advisory board for the Institute for Documentary Change, School of Communication at American University in Washington, D. C. and is an advisory board member for the Northern Virginia Community College Photojournalism Department.
He is a member of the National Press Photographers Association and the American Society of Media Photographers. He presently resides in the Washington, D.C. area.